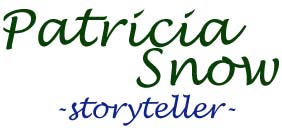 I was first a story listener and my mother was the storyteller as she carefully told us about our family history and the events that shaped who we were and who we became. We never tired of listening. In those stories the people whose faces we had never seen, because they were long gone before our coming into this world, became very real to us, not a faded image that we could barely relate to but connected to in a very deep way. They were our stepping stones. The stories made our links to our history strong and made us conscious of our being the next link in the chain that continues today.

It is only natural as spring follows winter to go from becoming a story listener to a storyteller. As you grow and your world expands beyond your family you discover you are not just telling your story, but that your story is not dissimilar to the story of all mankind. It has been said that every story I tell sounds like an Irish story; that may be true because the lessons learned, the wisdom imparted, the joy in being is common to us all.

I first became a public storyteller in 2003. Since that time I have had the opportunity to be a part of many storytelling events such as the Dickens Festival, Tellabration and storytelling concerts. Being a member of the Inland Valley Storytellers since 2003 and the coordinator of the group for 3 years gave me an opportunity to expand and grow in my skills as a storyteller.

I will always enjoy being a storyteller listener as well as a storyteller because I don't think you can have one with out the other. The Inland Valley Storytellers is a rich environment for both. We are all each others stepping stones.