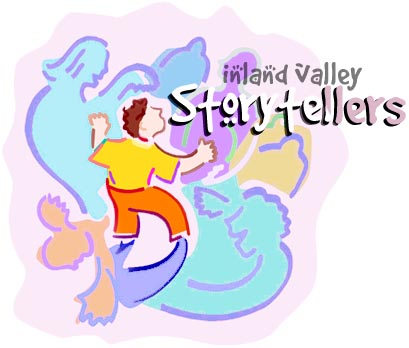 Monthly Story Swap
Come with an 8-10 minute story to share or just listen. For beginners & experienced storytellers alike! The second Tuesday of every month, 7:30 pm at the Claremont Forum, 586 West First Street. It's free and open to the public. Click here to read directions to the Claremont Forum. Click here to read summaries of the monthly meetings. This is one way to get an idea of what kind of stories are told at our story swap meetings.

Inland Valley Storytellers
presents
35th Annual Southern California Story Swap Festival
Saturday April 28, 2018 from 9:00 AM to 4:00 PM at the Claremont Friends Meetinghouse (727 West Harrison Avenue, Claremont, CA) is the 35th Annual Southern California Story Swap Festival. Registration starts at 8:30 AM. This is the annual gathering of all of the storytelling groups in Southern California. There are workshops, small group story swaps, food, 60 second stories, and a closing concert which starts at 2:30 PM with a representative from each storytelling group telling a story. Admission is $20 for all day if paid by April 14, $25 thereafter.
Admission is $10 for the closing concert at the door. If you are interested in only attending the closing concert, you don't need to fill out the registration form and there is no early discount. Admission is $10 for all. The concert will start at 2:30 PM and we will begin seating people at 2:00 PM. Click here for more information and to download the registration form.
Click here to see the Inland Valley Storytellers Past Events. Click here to see the IVS Facebook page.

Member Profiles| Storytelling Resources| Contact Us